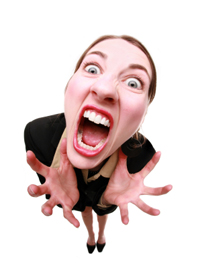 Bill Thomas was associate pastor at the First Baptist Church of Madisonville for over a decade and served as its musical director. He's no longer there. Bill did nothing wrong. Even though, many people believe he was terminated. According to a statement made by Joe Leonard, the church's pastor, Bill was not fired, he resigned. It's just that Bill happened to resign shortly after his wife wrote a news article that ticked off about half the community.
Bill's wife, Angela Thomas, wrote a column accusing the Southern Baptist Convention of being "raging Shiite Baptists" for opposing the Boy Scouts of America's decision to welcome gay recruits and members. She also included that, "Santa and the Easter bunny are simply the devil in disguise and cable television and the Internet are his playground. The Boy Scouts are his evil minions."
This is not a blog about the Boy Scouts' decision. This is an article about Pastor Thomas' departure from his church. Many believe, as do I, he was "encouraged to resign" as a result of his wife's actions.
When I interview for a church, I know that my wife is being considered. It's a strange thing this life of ministry. I remind the church that there are to be no expectations of my wife. I am the one being hired, not her. And yet, there is a kind of Abraham and Sarah relationship between us and the church I serve.
God made a covenant with Abraham that he would be the father of a nation. Yet that covenant required Sarah to bear a child. A church hires me and yet, that covenant between me and the church is not complete without my wife. If my wife is not a good fit for the community I serve I can't in good faith take the job.
In Bill Thomas' case, his wife did something that many could not tolerate. Something they felt was bad enough that Bill himself should be let go from his position as associate pastor. Even though, he did nothing wrong.
What do you think? Should a pastor be let go because of what his/her spouse does? Can you separate the spouse's behavior from the pastor they're married too? In other words if one disgraces the church, must they both go?
Read article at examiner.com