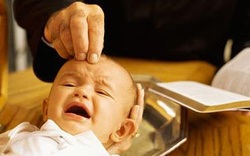 A woman faces a possible fine and jail time for baptizing her two children (ages 5 and 7) without first notifying her ex-husband. According to www.foxnews.com Lauren Jarrell, a Presbyterian, "must face a criminal contempt hearing for violating a court order that said major decisions regarding the religious upbringing of her two children should be made jointly with the children's father." The father, Emmett Blake Jarrell, a Methodist, preferred the kids be baptized when they are older and can better understand the significance of the sacrament.

Speaking as a Presbyterian pastor, we believe that when a young child is brought to be baptized, that child is presented on behalf of the parent's faith. I have to wonder, did Lauren's pastor ask where the dad is? If the pastor knew the father disapproved and proceeded with the baptism, why is he/she not being charged with violating the court order also? Because the pastor is not mentioned in this story, I am assuming he/she was not aware of the court order. But it is an observation worth noting.

Assuming Lauren withheld the information of the court order from the pastor, how can she in good conscious and Christian faith bring her children forward to be baptized? One of the questions she would have answered as part of the ceremony is, "Do you intend to provide for his/her Christian nurture?" Call me crazy, but deception is not part of Christian nurture.

The father is not upset that his two kids are baptized. Emmett is upset because they were not baptized in a way that he himself wanted them to be baptized. He wanted them to first have a better understanding of the sacrament. It should be noted that both the Presbyterian and Methodist Churches practice infant baptism. We baptize infants because we believe that God Himself initiates our relationship with Him and grace works in our lives before we are even aware of it or can understand it. If the father is a good Methodist he should not have issue with his children being baptized. This is not to side with the mother; I just question the father's motives.

Then there are the kids. They will grow up viewing this event not as a ceremony in which they were brought before God to be received into His family but as an event which divided their parents and introduced court proceedings. What do you think that will do to their faith? If these children are being brought up on their parent's faith, I wonder if they will ever want to have a relationship with God, let alone be baptized if given the option.

This is a sad story. Infant or adult baptism; we believe that God is doing something. At a minimum Christians believe that God is symbolically claiming the baptized person into His family. Can we trick God into accepting someone? Doesn't God have a say in this? If God is all-knowing, would he willingly accept a child into his Church knowing the child's father was being deceived? God is not a God of deception, but a God of truth. If I was the pastor who baptized these two children, I would be conflicted. Should I sign that baptismal certificate and record it with the church or tell the mom God won't honor her deception? These parents have made the sacrament of baptism not about God or their children, but about themselves. They have used deception and revenge to try and control God. If God is the one central to baptism, why is He being left out?

Your thoughts?