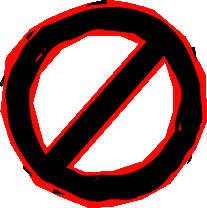 Every Sunday I stand before the congregation and I give a sermon on what I believe God is telling me to preach. It takes a lot of prayer and discerning to get a sense of what God wants me to say. But one thing I've always been convinced of, God does not want people in the church to simply know about Christ…

I grew up knowing a lot about Jesus. I knew he was the Son of God. I knew he was born of a virgin. I knew he taught people and healed them. He managed to get 12 men to follow him who were so devoted that they dedicated the rest of their lives to continuing his ministry. I even knew Jesus died on the cross and was raised from the dead 3 days later. I knew a lot about Jesus.

The problem was, I didn't know Jesus. I knew about him. Unfortunately, I wasn't aware of this simple fact.

When I was a teenager I went to church camp. I was a great church camper. I was a good student. I knew all the answers. I paid attention. I listened. But one night I heard. I don't remember the speaker's name, the stories or jokes he told. But I remember hearing what he said about Jesus.

I always knew Jesus died. But I learned he died for me. For me! I knew he was raised from the dead. I could be raised from the dead too! That night I went from knowing about Jesus, to knowing Jesus.

Do you know about Jesus? Maybe you go to Church every Sunday. You might even volunteer with an organization or two. You may know a lot about Jesus. You may know more than the pastor preaching the message. But do you know Jesus?

Jesus wants you to know him. He knows you. He loves you. He came to prepare a way for you to know him. He died for you. He defeated death for you. He is preparing a place for you. Do you want to know about those things? Is it enough to know about all the things that Jesus has done? Or is it something more to know him, to live with him, to go to the place he has prepared for you?

Jesus said, "I am the Good Shepherd, I know my sheep and my sheep know me." (John 10:14) This know is an intimate kind of know. He knows their name, what they like, what they fear, what they need. If Jesus is your shepherd, he will know you. He will know what makes you happy, what brings you peace, your favorite movie line (He knows my favorite movie line is: King Arthur to God: "Good idea Lord;" God to King Arthur, "Of course it's a good idea!"). He will know your favorite song, your hopes and dreams. And he knows how to save you.

Jesus doesn't just know about you. He knows you. Do you know him?