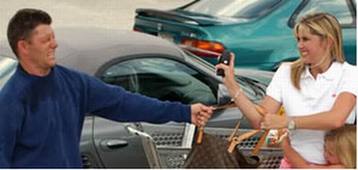 We all want that perfect gift to give away on Christmas. We all want to feel safe when we are out in a crowd. How can we combine those two wishes into one experience? By shopping at Wal-Mart of course!

As a group of eager shoppers was gathering around a crate of discounted Xboxes an unknown woman spewed pepper spray into the crowd, apparently in an effort to gain an advantage to nabbing one of the games. She remains unknown because everyone had their eyes closed after being nailed in the face with pepper spray. I wonder if the woman who used the pepper spray brought it with her or saw it on sale and then suddenly came up with the plan to use it. Whenever she came up with the idea, it may have worked.

According to police Sgt. Jose Valle, "The woman got away in the confusion, but it was not immediately clear whether she got an Xbox." (via Huffington Post) What? Let me get this straight. A woman discharges pepper spray into a crowd of shoppers, and is able to grab an Xbox, go to the nearest cashier and pay for it? Didn't that look weird to some people? Then again, those whose eyes were still able to see, were looking elsewhere.

It seems that during the entire melee, the store remained opened and other customers continued shopping. I tell you, these shoppers are really focused this year! I know this is an overstatement but one group of people is running around in chaos trying to wash off their faces and sooth their eyes from extreme pain while the rest of the shoppers in the area continue their frenzied shopping.

The Huffington Post also reported that this, "was the only major violence reported at a Southern California store involving Black Friday Thanksgiving holiday sales." The only MAJOR violence reported? You mean there was other violence? Just not major violence? Good gravy. What's going on in our department stores?

I didn't get up early and go Black Friday shopping this year. But after reading about some of the stories from today, I think next year I will go out. But not to shop. I think I will go to Wal Mart, grab one of the chairs from the camping section, get something to eat from the food court, and simply sit back and watch the show. I'll wear some protective gear too. Call me mad, but that could be very entertaining.

Jesus didn't talk much about pepper spray and shopping etiquette, but he did talk about loving your neighbor, sharing your resources, and generally being a kind person. That includes not taking advantage of others, helping others in need, and I'm pretty sure that if any of the disciples brought pepper spray to fend off the crowds Jesus would have said, "whoever lives by pepper spray will die by pepper spray." (At least he said that about the sword to his one of his companions in Matthew 26:52.)

I don't know if Jesus would even go Christmas shopping. First of all, that'd be pretty interesting, buying gifts for other people on your birthday. Nah. He'd be too busy telling people to give away their possessions, and probably restoring the vision of those who went shopping and lost their sight. I think the rest of us could open our eyes and see the real meaning of Christmas too if we weren't so focused on those low prices.