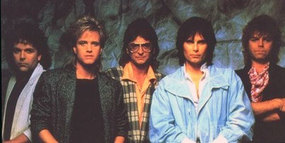 Ever have one of those conversations when you ask someone how they are doing and they look back at you, shrug their shoulders and say, "I'm surviving."

We've all had seasons in our lives when things are tough. We're glad just to make it through the day. We know things will get better, but for the time being we'll get by with just surviving.

I've had those times. But the thing is, I don't want to live my life "just surviving." I don't want to look back on my years and see a life of no substance. Because a life of survival is a life without significance. I don't need to be a rock star, but I want my life to mean something. In order for my life to be more than it is, I have to be more than I am. And the best way to be more than I am, is to let Christ live in me. Because if I have Christ in me, I am more than the sum of my genes. I am a new creation filled with the Spirit of God himself.

Jesus wants you to be more than the flesh and blood you are. Surviving is not what God has called you to do. He has created you to live. He has created you to experience the life he has laid out for you. And just to make sure you got the message, he sent his Son to give you His very life. So that you can be more. So that you can have more.

Jesus said, "I came that they may have life, and have it abundantly." John 10:10b

Jesus doesn't want you to survive. He wants you to have an abundant life. Are you ready to live it?