A few months back I test drove a pickup from a private seller. It was a great truck and the seller, the first and only owner, took excellent care of it. There was one issue though. One little bulb in the dashboard wouldn't light up leaving a dark spot in the speedometer. The seller said it had always been like that. After driving the truck for about 7 years, he learned to get used to it and assured me I would too. I believed him and bought it.

After driving the truck for about 7 months I decided to look into fixing that little bulb. I went online and found detailed, step by step instructions on how to take the dashboard apart. It involved wrenches of various sizes, several screws and bolts, electrical wiring and even more patience. I went out to the garage and took a closer look at all the parts I'd have to remove. With the driver's door opened and while down on one knee, I took my index finger to the spot that wouldn't light up and…bap! I tapped the screen a few times.

And then it happened.

A tiny little burst of light.

The dark spot was gone!

I stared in amazement. I was going to take the whole thing apart. I couldn't believe it.. but there it was. The entire screen was lit up like a brand new truck.

And all I did was "bap" it.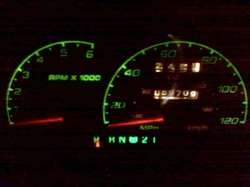 Do you have a dark spot in your life? Not a big spot. Just a little one. Enough that you notice but not enough that you feel too urgent about fixing. Maybe you just got used to living with it. That little dark spot in your life.

Perhaps you think it's not worth the effort of tackling. There are so many little layers to who we are. Fixing that one little spot would mean taking other things apart. It's just a spot. Learn to live with it.

Have you been living with a dark spot inside of you simply because you allow it or have gotten used to it? Sometimes, we allow something to linger because we don't face it. Those little dark spots become a blemish that we learn to live with.

Maybe what you need is a "bap."

Take a close look at that spot in your life and "bap" it.

BAP!

Pay that lingering bill. BAP!

Make that phone call… BAP! BAP!

Apologize for the pain you caused. BAP! BAP! BAP!

See the light come on.

See what the darkness was hiding.

See everything lit up as it should be.

And you'll feel brand new.