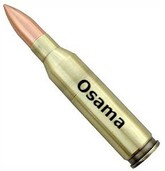 We've all heard the news… Osama has been found and killed. His body has already been buried at sea.

The purpose of his immediate burial was to respect Islamic customs that a body be put to rest about 24 hours after death. According to abcnews.com, "Traditional washing of the body was followed by wrapping in white sheets. A military officer read religious remarks that were translated by a native Arabic speaker, then bin Laden was eased into the sea."

Some people are not too pleased to hear that bin Laden was given a burial. I have read blog comments that say, "Stuff his body and put it on display at ground zero," "Light his body on fire and drop him from a sky rise building," "Put his head on a stick," "Hang his corpse from a bridge…" Those are the nicer suggestions

I understand people's anger. We all wanted this man caught. No one is upset that he was killed.

Is it wrong for us to respect an Islamic tradition and provide a semblance of a proper burial? Should we destroy the body and let people abuse it?

I lost no sleep in hearing that Osama was shot and killed. Ok, I lost a little. I read about it on my phone while lying in bed and jumped up to read about it online. I was surprised to hear the next day that he was already buried. I didn't know about the rules of Islam.

Call me mad but I think we did the right thing. We can't treat his body the way he treated the living. We are not the same as this man. Does that mean that the way he is treated after death is better than he deserves? Evil will always take advantage of good. But that doesn't mean we stop doing good. We, through our actions, set the standard for the world.

What do you think? Did the US do the right thing in the way Osama's body was handled?