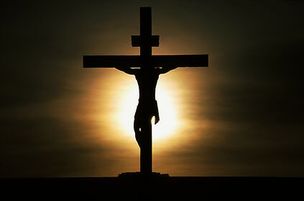 For I will pass through the land of Egypt that night, and I will strike down every firstborn in the land of Egypt, both human beings and animals; on all the gods of Egypt I will execute judgments: I am the LORD. The blood shall be a sign for you on the houses where you live: when I see the blood, I will pass over you, and no plague shall destroy you when I strike the land of Egypt. This day shall be a day of remembrance for you. You shall celebrate it as a festival to the LORD; throughout your generations you shall observe it as a perpetual ordinance. - Exodus 12:12-14

This passage leads up to the final plague the Egyptians faced as a result of enslaving the Israelites, God's people. In the morning every firstborn person and animal was found dead. But the Israelites, who had sacrificed a lamb and placed the blood of that lamb on their doorposts, were spared God's wrath. The punishment of death "passed over" their homes. Ever since that event the Israelites celebrated the Passover festival.

Generations later, Jesus and disciples were participating in the Passover festival. "Then came the day of Unleavened Bread, on which the Passover lamb had to be sacrificed. So Jesus sent Peter and John, saying, "Go and prepare the Passover meal for us that we may eat it." (Luke 22:7-8)

As they were eating the Passover meal, Jesus got the disciples' attention:

Then he took a loaf of bread, and when he had given thanks, he broke it and gave it to them, saying, "This is my body, which is given for you. Do this in remembrance of me." And he did the same with the cup after supper, saying, "This cup that is poured out for you is the new covenant in my blood. - Luke 22:19-20

Later, John, the author of the Gospel According to John, would call Jesus the Lamb of God. Jesus was the lamb that was sacrificed on the altar of the cross. His body was broken and his blood was spilled so that all who accept him as their savior may have death "pass over" them.

It may sound madness to believe in a God that allows himself to receive death in order that death may pass over those he loves. But that is what today, Good Friday and Easter are about. Jesus took upon himself the result of our sin. Romans says, "the wages of sin is death." (Romans 6:23) We have all sinned. We may not have done terrible things. We may not murder or rape or steal an elderly woman's pension. We may actually do a lot of good. But God requires that we be perfect. Those who are not perfect miss the mark. That's what sin is… missing the mark.

Jesus never missed the mark. But he died. He died willingly. And death has passed over us, and taken Jesus, the firstborn over all creation (Colossians 1:15) instead.

It would simply be mad not to live our lives with thankfulness to God who has set us free from death by taking it onto himself.