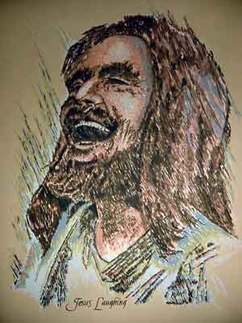 Because I grew up in the church, I've seen a lot of pictures of Jesus. Jesus praying on a hillside. Jesus holding out his hand. Jesus hanging on the cross. Jesus watching over sheep. Jesus healing a blind man. Jesus walking on water. Jesus. He's so serious.

Now don't get me wrong. I'm not complaining that these paintings are objectionable. I'm sure each of them in their own way, captures a part of who Jesus is. But what I never see is a picture of Jesus laughing. I mean, head back, eyes shining, mouth opened laughing. At least until I saw this one.

I may sound mad, but I want to worship a God that knows how to have a good laugh. That's why I love this picture of Jesus so much.

Why is Jesus laughing? Did one of his disciples Peter just tell a joke? Was Peter the joke? Did Jesus punk one of his friends? Please, leave your ideas of why you think Jesus would laugh.