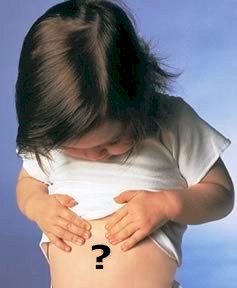 What do we all have in common? We all have belly buttons! Some have innies and some have outies. We all have belly buttons because we all have mommies and our umbilical cords were cut the day we were born.

So I have a question about one man. What about Adam? He didn't have what we would call a traditional birth. Genesis says, "Then the Lord God formed man of dust from the ground, and breathed into his nostrils the breath of life; and man became a living being." So what about the umbilical cord? It doesn't sound like Adam had one. If not, does that mean he didn't have a belly button?

I may be mad, but I think God looked at his creation, saw how wonderful his work was and, just like any new dad would want to touch his child, God reach out and poked Adam in the belly and said, "Goochicoo!" And just like that, Adam had a belly button!

So my vote is yes, Adam had a belly button. What do you say?