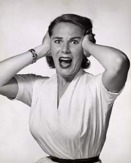 I had lunch with a group of pastors a few weeks ago. One was troubled and shared his concerns regarding another church. It seems this church's pastor quit and the congregation hired their youth director to replace him. The youth pastor made a lot of changes. One of which really seemed to concern my friend. What were the changes?

The new, young pastor rearranged the stage area of the sanctuary. That wasn't the problem. He brought in new instruments and musicians. That wasn't the problem. The church was experiencing a growth spurt and new people were attending. That wasn't the problem. So what was the problem?

What is the church going to do if this guy quits? That's the problem!

Are you serious!? I just about passed out. The church is growing, people are coming. But we're not focused on the growth and the good work that the Holy Spirit is doing, we're focused on the time when the new pastor leaves. I suggested that if in case their new pastor moves on, the church should begin a search for a pastor of similar gifts and skills to carry out the new vision. I was told that I was simplifying it.

Why are we focused on what can go wrong? Why are we afraid of success in the church? I almost suggested it would be better off for the church to hire someone without passion, drive or talent. That way the church wouldn't grow at all and there would be not problem replacing him or her when they leave.

I think the church should work very hard at bringing their best for God. That means excellence in worship, music, education, the way the building looks, and the quality of staff. We are worshiping and representing God. Have I gone mad or should we not always give God our best?