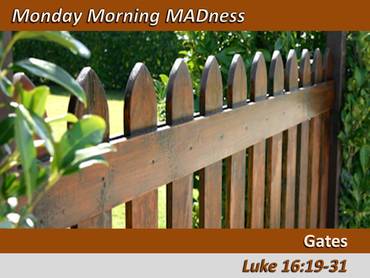 Outside my church office is our kids playground. That playground is surrounded by a fence. We see fences lots of places; around gardens, schools, entire neighborhoods. We see fences around prisons.

Fences keep things that are on the inside in, and those things that are on the outside from getting in.

Just like the fence around our playground, most fences have a gate. If you control the gate, you control what can go in and out of your fenced area.

Jesus shared a story about a gate; a gate and two men. One man was rich. He lived in his house behind a gate. Everyday he sat at his table and ate an extravagant meal. The other man was a beggar who sat on the other side of the rich man's gate. The beggar woke up every morning to hunger. The gate between them was closed.

I think this gate symbolizes the rich man's heart. He could have helped the beggar at any time. But, like the gate, his heart was closed to helping others.

Take some time this week to think about the gates in your life. Is there someone to whom you need to offer forgiveness. Unlock the gate to your heart and let that forgiveness pour out. Is there someone or something in your life that needs to come in? Open up that gate and let it in.

I don't know what the situations in your life are but I do know this. You and only you control the gate to your heart. Isn't time to unlock some of those gates and enter into a life that God has prepared for you?