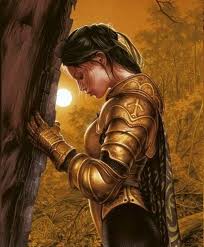 If you want to discover the plan God has for your life, pray for it before you look for it. Today we'll take a look at four benefits of prayer. These four benefits come from the book, Hand Me Another Brick by Charles Swindoll.

PRAYER MAKES YOU WAIT
You have to stop what you're doing in order to pray. (This is especially important if you're driving.) Nehemiah prayed for four months after hearing the wall around Jerusalem needed to be rebuilt. It was obvious what needed to be done. But he still took the time to pray and seek wisdom in how to proceed.

Of course we can say a quick prayer in our head as we are completing a task. Nehemiah did as much when the king asked him what was on his heart. I'm talking about the type of prayer where we empty our minds of all things except for the voice of God. This kind of prayer keeps us from making quick decisions. It forces us to slow down and wait for God's wisdom.

Waiting before acting does not represent a lack of faith. It is a sign of mature faith. Children don't like to wait. They cry and act out if they don't get what they want immediately. We teach children patience in order to help them mature. We need to be the same in our adult spiritual lives.

Don't regret making a decision without prayer. Take the time. Wait. Pray.

PRAYER CLEARS YOUR VISION
Praying for God's plan for you will make you think about God's plan for you. You can't move forward with a plan for your life if you don't know what that plan is. It would be like a carpenter building furniture without knowing what their making. You need to have a clear vision of what you want to build before you can build it.

When you start praying to God to reveal his plan for you, you will begin to be more focused. You will start to discover ideas and ways to carry them out. When Nehemiah was asked by the King what he needed, he was able to do more than share his concern. Nehemiah had a clear vision for the solution. He requested letters for safe travel, permission for timber to build gates, and even had a timeline in mind for when he would return. It's a good thing Nehemiah waited before going to the king. His plan was so well thought out he was able to make specific requests when asked what he needed.

PRAYER QUIETS YOUR HEART
In a true conversation, there is as much listening as there is speaking. In fact, listening is often more important. As the saying goes, the good Lord gave you two ears and one mouth for a reason. Prayer requires that we listen to what God is saying to us. The more we listen, the more our hearts will calm down.

Oftentimes when we go to God in prayer our hearts are filled with the noises of the world; fear, anger, worry, anxiety…It's hard to hear God when there is so much noise in our hearts. But as we pray and focus on God, those things lose our attention. As the sounds of the world fade away, the voice of God begins to become more audible. It's not that God's voice wasn't there. We just need to let those things go away. We need our hearts to be quiet so we can hear the message of God.

PRAYER ACTIVATES YOUR FAITH
One of the first things Nehemiah did confronted with the status of the wall was pray. He prayed continually. If Nehemiah had not prayed, he may have not thought the task was possible. Building a wall around a city? Needing permission from a king from another city to do it? Why would King Artexerxes, the king for whom Nehemiah worked want to make another city more fortified? It would take a lot of faith on Nehemiah's part to seek permission to rebuild.

What do you want to build in your life? You need to have the faith to do it. Praying activates that faith. It can be like the pep talk a coach gives their team before the big game. You can't open yourself up to God and not be changed.

EVERY JOURNEY MUST BEGIN WITH PRAYER
A journey of a thousand miles may begin with a single step. But a successful plan begins with prayer. As you journey toward your destination, don't forget to stop and pray. Wait. You can't move forward if you're kneeling. Pray to clear your mind and receive God's vision. Listen. You won't hear God speaking if you're doing all the talking or paying attention to the world's bullying. Do this, and your faith will be activated so you will have the courage to do what you may previously thought was not possible.