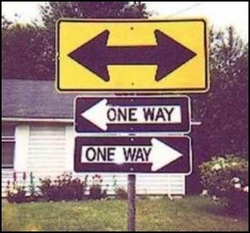 Sometimes churches just amaze me. And by amaze I mean baffle. And by baffle I mean drive me crazy. And by drive me crazy I mean, "Hello, I'm the Mad Pastor."

I am a big believer that churches should have a mission and vision. How are you supposed to carry out your role in the Great Commission unless you've determined what it is? So I like to read other churches' mission statements. Here's a portion of one from a mainline denominational Christian church I've been to:

"We do not presume to tell people what to think or believe. Ours is a community of free inquiry. We explore together our faith document, the Bible, and the Tradition that has been handed down to us, using our Reason along with personal Experience to determine what we believe and how we will act. There is room within this spiritual community for a wide variety of viewpoints on faith and life. Indeed, we believe that we are enriched by this variety."

Huh? I have no idea what this church believes in. Seems to me like anything goes. Believe Jesus is the Son of God and your savior? Then he is! Believe you have salvation because you did a good deed once? Bippity Bop - You're saved! Believe you can finance your way into heaven? Good News! God accepts all denominations! (Get it? I made a funny!)

As a pastor, every Sunday I stand behind the pulpit and I tell you what to think and believe. That is my job. It is your job to determine if you want to believe it. You don't have to. I won't make you. But that's my job.

A church without standards has nothing for which to aim. There can be no growth because there is no challenge. Anything goes. You will not have any spiritual depth because there is no standard of measurement. A healthy church cannot have "a wide variety of viewpoints on faith and life." It needs to have one. Otherwise, Jesus is the way, the truth, and the life and no one comes to the Father except through him (John 14:6) …unless you believe in something else.

Call me crazy, but shouldn't churches state up front what they believe and set standards and help people achieve them? Does that mean some people will disagree? Yes. But is that such a bad thing? What do you think?