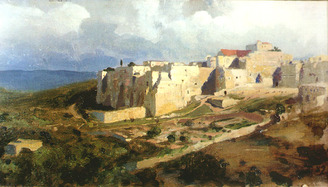 Just five miles south of Jerusalem. Located in the Judean hills, lies a small town. At the time of Jesus' birth, no more than 1,000 people called Bethlehem home. A place where shepherds watched their flocks and farmers tended their fields. Bethlehem was a humble city. One prophet called it a small village among all the people of Judah. (Micah 5:2b) Whether he meant to or not, the Episcopal Priest and poet cemented the phrase we sing every Christmas season, "O little town of Bethlehem."

By today's standards Bethlehem continues to remain small, not exceeding a population of 30,000. But its size means nothing compared to what happened there. Within the borders of this sleepy village God chose to do something great. Something that would change the world. This small village, this little town of Bethlehem, became the birthplace of the Son of God, the Savior of the world.

It's not the things we do that make us great. It's not the amount of money we make, the horses within our cars' engines, the number of rooms in our houses, or how many friends we boast on our Facebook page. We can write books, sonnets, plays, and even a few songs that make the young girls cry. And while these can bring us fame and recognition, they can't make us great.

In a world that values SUVs, big screen TVs and supersized meals, you may feel irrelevant, insignificant, even overlooked. But remember Bethlehem, a modest city tucked away in the hills of the Judean countryside. A place that would otherwise be unknown, not because anything the city did, but because of what God chose to do there. You too, can find value and significance. Because true greatness doesn't come in the things we ourselves can do. I comes in allowing God to do for you what he did to Bethlehem; to place his Spirit within you, and have that greatness shine through.

Something to think about has you head into another week.