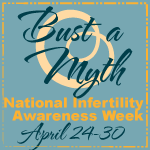 Special Edition:
This week is National Infertility Awareness Week. This summer, my wife and I will have been married 13 years without children. We've tried to get pregnant for almost 7 of those years. Being married 13 years without kids leads to some interesting and uncomfortable discussions. Some of those conversations deal with myths surrounding couples who, for one reason or another, don't have kids. Today I'm going to share one myth I've dealt with that has led to some painful conversations.
I Don't Have a Porsche, Therefore I Don't Like Kids

I have been a pastor for about 7 years now. I currently pastor a church in the Chicago area. Every Sunday we have a children's message called the Mystery Sermon Surprise. A different child each week places an object in a special box before service starts. Then, during worship, I call all the kids forward and the child who brought the surprise shows it to me for the first time. I have to make up a lesson based on that object then and there. Usually God gives me something pretty good to say and I am surprised at what comes out of my mouth. I love that part of the service. It's fun to be surrounded by kids.

At my first church I was also surrounded by kids. But it wasn't during the worship service. Long before I was hired, the congregation rented out most of its facilities to a daycare during the week. Every day that I went to work over 100 kids were on the other side of my office wall. At first I played with them a little bit. One day I picked a small child up and tossed him a few inches in the air, caught him and set him down. Within seconds just about every child was lined up for the thrill of being tossed in the air. I remember standing in one spot for about ten minutes as I picked up kid after kid like a fun-house assembly line. One hot summer day the kids were running through the sprinklers and just for fun I joined them; shirt, pants, shoes and all.

Meanwhile, my wife and I had been married about 6 years and we decided that if I was going to play with little kids, they were going to be our own. Our years of marriage up until then had been spent moving, attending seminary, and changing jobs as a result of layoffs. We didn't want to bring a child into our lives when so much was in fluctuation. But I had a stable job now and we believed it was the right time to start. As time rolled on we were unable to conceive. We saw a doctor, did the tests, my wife took some drugs, and we had the ever so romantic, timed sex. No we didn't turn out the lights and start a stopwatch. We timed it with a calendar. Wait; that came out wrong. But it came out wrong in my favor so I'm just going to leave it in the blog. But to clarify, we followed the science of tracking when the optimal day for conceiving was and we both came home early from work that day. This has gone on longer than it takes to graduate high school.

People at that first church and the a few workers at the daycare noticed I didn't have any kids. And a myth started to reveal itself. One of the elders at my church commented on the fact that I didn't have children and slapped me with the phrase, "You don't like kids." Another day, the daycare owner told me that she and the daycare workers believed I didn't like kids. I asked her how they could think this when I've played with the kids. She informed me she and the workers thought it was all just an act. For a guy who is quick with words, I left that conversation in stunned silence.

This myth that people don't have kids because they don't like kids is a painful one. And by the way, to tell that to someone is rude, mean, and ignorant. Several times I have held my wife who is in tears to discover another month has gone by and we are not pregnant. It's been almost 7 years now. We've prayed, we've seen doctors, and we've shared our pain with our friends who have kids. And to have someone tell you to your face that you don't have kids of your own because you don't like them is what the author Phillip Yancey would call a moment of un-grace.

In honor of National Infertility Awareness Week and the myths surrounding infertility, I'd like to bust this myth of not having kids because I don't like them. So, here is the Mad Pastor's list of things I obviously don't like because I don't have them:

1. A house in the Hamptons
2. A Porsche
3. A winning lottery ticket
4. The ability to fly
5. A bestselling novel
6. Freckles
7. An Oscar
8. A world record
9. A yacht
10. A private jet
11. My very own Home Depot
12. Calorie free ice cream
13. That stopwatch on The Twilight Zone that stops time
14. A hovercraft
15. ESP
16. A teleportation machine
17. My own indoor swimming pool
18. 20/20 vision

Some day God just might surprise my wife and me. I don't know. Our lives and our future are in his hands. But I have to admit, sometimes I think about that mystery sermon box at my current church and all the kids that come forward. Maybe one day the child who brings the surprise will be my own. Oh geez, I hope I like him!