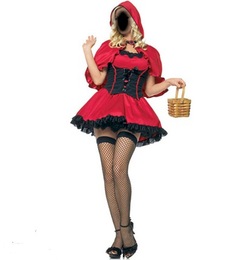 I've started noticing a new trend with Halloween. Last year, I went to a costume store to pick up some props for an event and I found myself in a very awkward moment. In the front of the store were little items like make up cases, vampire teeth, and I guess what you would call mummy accessories; fingers, fake, blood, etc. In the back of the store were the large, expensive items to place in your front yard; self opening caskets, screaming signs, and skulls that light up. But it was the middle of the store that scared me the most.

Aisles and aisles of costumes for women took up the center. There were witches, nurses, pirates, cops, and princesses. At first glance everything seemed normal. (Well, normal for a costume shop.) But as I took a closer look, I noticed something more… or less. There was something missing in these outfits… material. These costumes were provocative. I saw more material on the little kids' princess costume than I did on the adults'. When did this happen?

I felt like the women's costume section needed to be separated from the rest of the store like those old video stores. Remember the old days of video rentals? There was always one section set apart from the rest of the store. Sometimes there was a curtain of beads in the doorway between the "family" section and the "adult" section. Anyone seen going into the adult section was considered to be kind of sleazy. And yet, here I was standing in the middle of what seemed like the adult section of the video store and it was smack dab in the middle of the room with kids running all around.

When did witches become sluts? I thought they were ugly hags. Why does Little Red Riding Hood have a tiny skirt that barely covers the buns she taking over to Grandma? Doesn't it get cold in the woods?

Am I overreacting here? Let me know what you think.