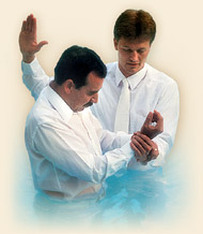 Asher Wiesenthal and Rosa Rapp were baptized in Salt Lake City, Utah. Some are calling their baptisms sacrilege and the church that baptized them is apologizing. What's even stranger to some, is that Wiesenthal and Rapp are both Jewish and two weren't even present for their own baptisms. In fact, they died several years ago as holocaust victims. So what's going on?

The Church of Jesus Christ of Latter Day Saints (Mormons) conducts what they call, proxy baptisms or baptism by proxy. It is an answer to the question of what happens to a person who dies before being baptized in the Mormon faith? According to Kathleen Flake, a Vanderbilt scholar who has studied the LDS faith, "Mormons believe that vicarious baptisms give the deceased, who exist in the afterlife as conscious spirits, a final chance to join the Mormon fold, and thus gain access to the Celestial Kingdom [the highest of the three heavenly kingdoms in heaven]" Flake adds that, "Mormons are encouraged to baptize at least four generations of forebears to seal the family together in the afterlife." (The Washington Post online)

Jewish leaders believe it sacrilege for the LDS Church to insist that Jews are not worthy enough to receive God's blessing and that it would take intervention on part of the Mormons to enable a Jew to be heaven (at least the Celestial Kingdom). Michael Purdy, LDS spokesman, has voiced regret on behalf of his church stating that the names of Wiesenthal and Rapp were submitted by an individual member of the church and only names of family members should be submitted. In fact, in 1995 the Mormon church agreed to stop baptizing Jewish Holocaust victims.

I myself do not follow the Mormon faith. I do not believe that I require baptism in order for my salvation. And I don't know about the idea of being sealed together with my family in the afterlife. If I believed my salvation required baptism and I believed in baptism by proxy, I'd probably make sure a few family members' names didn't make the list. The holidays were bad enough. But an eternity? Someone's name gotta come off that list.

So what do you think? Would you be upset if you found out that one of your deceased relatives was baptized by proxy into a faith he/she or you didn't believe in? Is what the Mormons did offensive or was it worthy of at least a, "thanks for thinking of us" acknowledgement?

Is this worth going mad over?