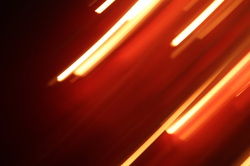 The lone prophet Elijah challenged King Ahab and 450 prophets of the god Baal and the base of this mountain.Elijah challenged them to a contest. Each would build an altar to their own god, Elijah to the one true God and the 450 prophets to Baal.

The 450 prophets went first. They slaughtered a bull, placed it on the altar and prayed to Baal to send fire. They danced, they sang, they shouted, they cut themselves with knives and spears. They did this all day. Nothing happened.Then it was Elijah's turn. Here's what 1 Kings says happened:

30 Then Elijah called to the people, "Come over here!" They all crowded around him as he repaired the altar of the LORD that had been torn down. 31 He took twelve stones, one to represent each of the tribes of Israel, 32 and he used the stones to rebuild the LORD's altar. Then he dug a trench around the altar large enough to hold about three gallons. 33 He piled wood on the altar, cut the bull into pieces, and laid the pieces on the wood. Then he said, "Fill four large jars with water, and pour the water over the offering and the wood." After they had done this, 34 he said, "Do the same thing again!" And when they were finished, he said, "Now do it a third time!" So they did as he said, 35 and the water ran around the altar and even overflowed the trench. 36 At the customary time for offering the evening sacrifice, Elijah the prophet walked up to the altar and prayed, "O LORD, God of Abraham, Isaac, and Jacob, prove today that you are God in Israel and that I am your servant. Prove that I have done all this at your command. 37 O LORD, answer me! Answer me so these people will know that you, O LORD, are God and that you have brought them back to yourself." 38 Immediately the fire of the LORD flashed down from heaven and burned up the young bull, the wood, the stones, and the dust. It even licked up all the water in the ditch! 39 And when the people saw it, they fell on their faces and cried out, "The LORD is God! The LORD is God!" 1 Kings 18:30-39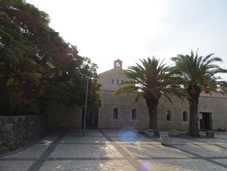 Church on top of Mount Carmel
Perhaps you need to rejuvenate your faith. Maybe you lost your faith and you want to find it again. Where have you been looking? Are you dancing around all the options? Where are you placing your faith?

I encourage you to stop dancing around your problems. Stop cutting yourself with the dagger of doubt and drop the spear of a wavering faith. Place your fears upon the altar. Call upon the God of Abraham, Isaac and Jacob and may His Holy Spirit come down on you like fire and burn away every doubt and fear so there is nothing left but His presence.

May you filled with the fire of His Spirit today.