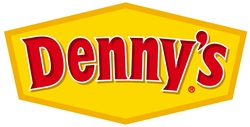 …whoever wants to become great among you must be your servant, and whoever wants to be first must be slave of all. For even the Son of Man did not come to be served, but to serve, and to give his life as a ransom for many." ~ Mark 10:43-45

In the town I grew up there was a Denny's. Open 24 hours it served every walk of life. People ate breakfast and grabbed their coffees on weekday mornings before heading off to work. Teenagers hung out on weekend nights getting ice cream with their friends because they weren't old enough to stay out past their curfews. After 2:00 am when the bars closed there was a whole new group of people who arrived. (I think this group might be why there are pictures of the food on the menus. They can just point at an item and say, "I want that." Face it, it's hard to say Moons Over My Hammy" when you've had too much to drink.) I was a part of the crowd that showed up on Saturday mornings before soccer games. Denny's is for everyone. It's a church of fellowship of sorts.

I know a lot of people who treat their church like Denny's. They always expect the church to be open when they arrive. They sit at their "table." They may even have a waiter, aka usher, bring them to their seats. They see their friends and talk about the week in between Sundays. Everyone has a good time and everyone enjoys the fellowship. After a cup of coffee, they go home with the expectation of repeating the process the following week.

There's nothing wrong with the fellowship of the church. Without fellowship, there's something missing. We need that human interaction to feel human ourselves. But everything I just described can take place at Denny's. The friends, the food, the fellowship…

If we want to get real about our faith, we have to accept the fact that the church is more than a place to serve up fellowship. You can get that at the church of Denny's.

When you walk into your church are you ready to do more than receive something for yourself? Are you ready for yourself to be the offering? To give yourself over to Christ? To let him take you, not just your order or your tip, and use you to do his will?

Call me mad, but the church is not just a place of fellowship. And to go to church for the fellowship alone means that you haven't grasped what it means to be a follower of Christ. The church is a place to feed our faith yes. But it's a place where we go not to be served, but to learn how to serve others.

Are you ready to cancel your membership at the church of Denny's? Then put on your apron, come into the church of Christ and be his servant.