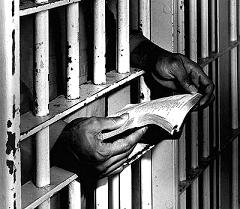 An Alabama Judge is giving people convicted of non-violent misdemeanors a choice: Go to church for a year or go to jail.

The program is simple, offenders can pay a fine and do jail time, or they can pick one of 56 churches that are participating and attending each Sunday while checking in with the pastor and their parole officer. After a year, their case is dismissed.

See the story here

This story of jail versus church makes me think. As a pastor, every Sunday I see people attend church. They arrive at the same time, right on schedule. They wear their Sunday morning uniforms. People file in an orderly fashion and sit in their "assigned" seat. (Ever visit a church and sit in someone's "spot"? I have. Get ready for a beat down. There's a caste system here buddy… better learn it.) Sometimes someone tries to do something different that challenges the caste system and they get punished. They get shanked with the evil eye or a sneer, or get ostracized for messing up the system. There's the church, and then there's the "family" within the church that you are either born into or pass some test allowing you to join it. Once you're in, your family. You're on the inside now.

Of course I'm exaggerating. But there's some truth to this isn't there? Think about the youth of the church. In my experience when many kids who grow up in the church no longer have to attend, they simply stop going. There's a common saying, "When kids graduate high school, they graduate God." There's an opportunity for them to "break out." And for many couples that attend, when one can't make it, the other doesn't come either. Why go when you don't have to?

The truth is we all do jail time, whether we are imprisoned by our own sin or allow ourselves to be taken hostage by God's love. We are all serving a sentence. Jesus said, "The thief comes only to steal and kill and destroy; I have come that they may have life, and have it to the full." (John 10:10).

Jesus has come that you might have life. He is offering you a sentence of life. To be set free of the chains of sin. Chains that bind us to all of our inadequacies, all of our failures and all of our faults. And he has offered you life. A life of being hostage to his love. To be set free from the things of this world, and to serve a life sentence in a world without limits.

I hope those offenders choose the alternative to jail. But even more so, I hope that after attending church for a year, they choose to accept the life sentence that Jesus has to offer.

So what do you think? Is this a good idea?