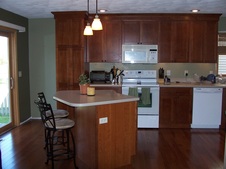 This is my real kitchen!
Today I finished remodeling my kitchen. It started two years ago. It took about 3-4 months to get 99% of the job done. Then I took a break for about... oh... 18 months. (I have a great union.) I needed to level all the doors and secure the dishwasher. Leveling the doors was pretty easy. The hinges are adjustable. It just took some patience. To secure the dishwasher I just needed two screws that aren't as long as the counter top is thick. (I measured three times for that!) Until today some of our doors were crooked and the dishwasher tilted forward every time we opened it.

So why did I wait so long? I don't know. It seems that whenever I'm about 95% done with something I'm done. A 95% is an "A" after all. Those final two steps took about 2 hours. That included the 40 minute phone call I had on my coffee break. (I told you, great union.)

Do you ever do that? No not the 40 minute coffee break. We all do that. I mean the 'I'm almost done but for some reason I'm going to call it done projects'? I have a lot of them. That's my project for this summer - to finish off the projects I started last summer. They include:

* Fixing that one loose paver on the patio I installed (The other 798 are just fine thank you)
* Changing the lock on the screen door (all the screws are out except that one. I wonder where I put them? It was about 4 months ago)
* After replacing all the tile in my house with wood flooring last year, I have about 4 feet of baseboard to put under the sink cabinet
* Painting about 5 inches worth of space in my church office (the other 99% wore me out)
* Staining a handrail I installed (hey, it meets code!)
* Fixing the drawer on my entertainment center so that after I open it I can actually close it.
* There are more, but I'm about 95% there....

I myself am a work in progress. We all are. The Great Carpenter is doing his work in all of us. Fortunately, I know God will complete his work in me..."And I am sure that God, who began the good work within you, will continue his work until it is finally finished on that day when Christ Jesus comes back again." Philippians 1:6.

Do you have any projects that are incomplete? Why don't you respond and share what they are? I need to feel better about myself.