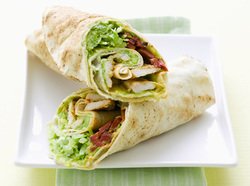 Does this taste right to you?
My wife and I went out of town for a weekend getaway. It was lunchtime so we casually chose a restaurant and grabbed a table. We looked over the menu and I picked the option that looked most appetizing: Teriyaki Chicken Wrap. We chatted about life and what we wanted to do that weekend until our meals arrived.

Jen offered to pray before we ate. We held hands, bowed our heads and she said a few thankful words. As she prayed my nose hovered over my plate and I could smell my warm lunch. Problem was it smelled weird for teriyaki. After we prayed I took a bite of my wrap; it tasted weird for teriyaki. Truth is, it just didn't taste right.

I made a funny face and Jen asked if everything was ok with my meal. "Well," I admitted "it doesn't smell right. And it just doesn't taste right. Something is off." She asked what I thought the problem was. Maybe the food was spoiled. I said, "It might be. It just doesn't taste like teriyaki."

And with all the love of a caring woman, my wife looked at me and said, "That's because you ordered the TEQUILA LIME Chicken Wrap!

Oh! TEQUILA! Not Teriyaki. I took another bite. Wow, this is pretty good for tequila lime! Turns out there was nothing wrong with my food, it was all my perception.

It's like the old saying goes, "perception is reality."

Having you ever talked tequila lime with someone who thinks you're talking teriyaki? And no matter what you say, you can't change their perception? It's frustrating.

God must be patient.

So often he calls on us to live a life that will honor him. We think it's about us. God says, "I want you to do something." We respond with, "But how will that make me look?"

It's not easy to have a relationship your focus is on yourself. In fact, it's not easy to have a relationship with anyone if you treat that person in a way that is designed to make you look better or feel better about yourself. You'll never be present in a way that can be beneficial to them or the relationship.

I think this is the issue with most of our relationships, especially our relationship with God. Let me ask you, Is your daily prayer, "God, help me get through my day?" Who is your focus on in that conversation?

God feeds us. He gives us what we need, but not always what we desire. If we think that God exists simply to serve our desires we are living in a teriyaki world while God is feeing us tequila lime. Our perception will be off and we'll misinterpret what God brings.

"This tastes funny." "God doesn't know what he's doing." "This is not what I asked for."

It only tastes funny because you are not focused on what God is bringing, you're focused on what you desire.

God knows exactly what He's doing. That's why he is serving you what you need.

No, it probably isn't what you asked for. But when you are well fed, you can thank God later.

And if you shift your perception from yourself to God, then everything will taste better.