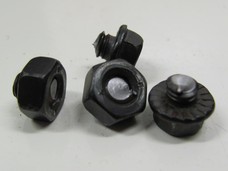 I bought a new snow blower this year. I was tired of having to take a shovel to the ice and snow at the end of the driveway that my smaller blower couldn't handle. I made the plunge and bought a big metal, 208 cc, rust resistant snow blower with 11 in. steel serrated augers, electric start, and alloy steel gears….(caveman sounds) AAAUUUggggg Aarrrggh, Ahhh ah Ahhhh ahhh!!!

Boy did that baby blow! (Insert your own joke here.) I could practically hit the neighbor's house across the street! Yes! No more shoveling for me!

I pulled my new snow blower out this weekend for the second snow of the season. Four inches. No problem. My baby can handle it. I was half done with the driveway when I noticed something…. the whole machine was wobbly. It was bending sideways back and forth. It looked more like a slinky than a snow blower. The bolts holding it together were literally breaking apart and falling off. My precious snow blower was about to be in pieces!

Turns out the bolts that held the machine together were not properly heat treated when they were made. They were brittle and couldn't take the stress of a moving machine. Because they were falling apart my favorite new winter machine was falling apart. It didn't matter if the engine was strong and the transmission worked, the machine as a whole is only as good as the bolts that hold it together.

What are the bolts that are holding your life together? Can they handle the stress of life? Or are you risking falling apart because the bolts of your life are overburdened, overstressed, or just not properly made?

We all have something to keep our lives together. Sometimes its family, work, church, friends, even alcohol and drugs. We use any manner of things to keep it together. But everything, eventually will fail us. Nothing can compete with the stress of life. Except the One who made life.

In speaking of Jesus, the apostle Paul said, "all things were created by him and for him. He is before all thins, and in him all things hold together." (1 Corinthians 1:16b-17)

If you are looking for something to hold your life together look to the one who created life. He understands you. He made you! And if he can hold the universe and all creation together, think how much he can do for you!

By the way, I took my failing snow blower back to the store and they traded it for an upgrade at a deep discount for my inconvenience. I almost can't wait for it to snow again. And just to be sure, I swapped out some key bolts with new stainless steel ones.