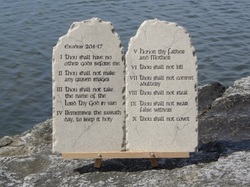 Some people think I'm weird. They think I'm weird for a lot of reasons. But one of them is because I know the Ten Commandments… and in the right order. Personally, I think all people should know the Ten Commandments. It's ten things. Ten. That's not a lot. Yet, most people don't know them.
Many of us know the words to all the songs in several albums. People have movie lines memorized. Sports fans know all kinds of stats about their favorite teams. We know lots of things about stuff that interest us. But we don't know the Ten Commandments.
It's clear that we are able to memorize the Commandments. Do we not know them because we're just not interested? I can buy that. What I struggle with is why so many people who go to church don't know them. It makes me wonder about two things: Do Christians really want to know about a basic part of their faith or are churches just not doing a good job teaching? Check out the video below of people being asked about the Ten Commandments.
Am I crazy, or should all Christians know the Ten Commandments?
Ps. I have two other thoughts. 1. Why do I always see the Ten Commandments listed with Roman Numerals? (think about it.) 2. I'm guessing tablets are heavy. Wouldn't God have just written on both sides of the same tablet?
Read some more about the video below
here